The Motivator Personal Training and Fitness gym has received the Spectrum Award of Excellence for the fifth year in a row!
City Beat News, who issues the awards, selects those businesses who exceed expectations in customer service. The Motivator retains a five-star rating on Google and Facebook!
In addition to five Spectrum Awards for Excellence, The Motivator has won awards for Best Gym in Tucson, Best Personal Trainer in Tucson, among others.
According to City Beat News: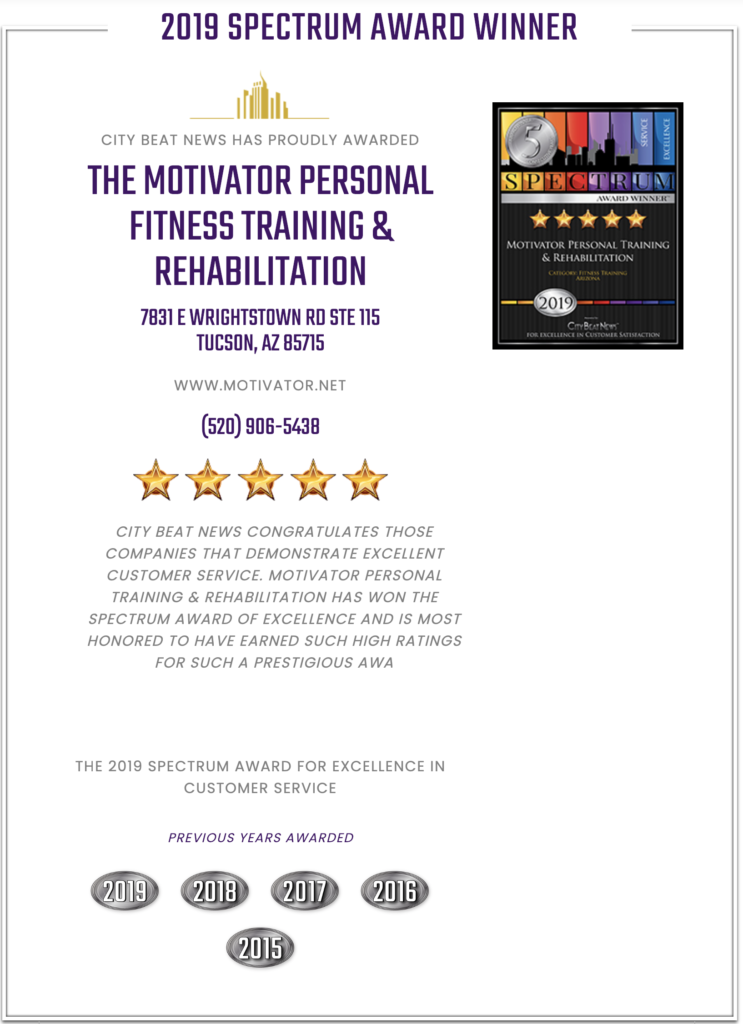 "The Spectrum Award is given to businesses who have displayed excellence in customer service in their business and industry. To identify top companies City Beat News researches the overall customer satisfaction performance of businesses and business professionals across the US. Our proprietary algorithm distills the information and provides a single unbiased rating for the year.
The Spectrum Award is given to those who earn our highest ratings."
The Motivator specializes in:
Personal training
Injury rehabilitation
Senior citizen fitness
Functional fitness
Sports fitness
Weight loss
Nutritional counseling
Pain relief (Active Release Techniques and boomstick therapy)
FREE consults! Contact Big Al: 520-906-5438, AZ.Motivator@gmail.com